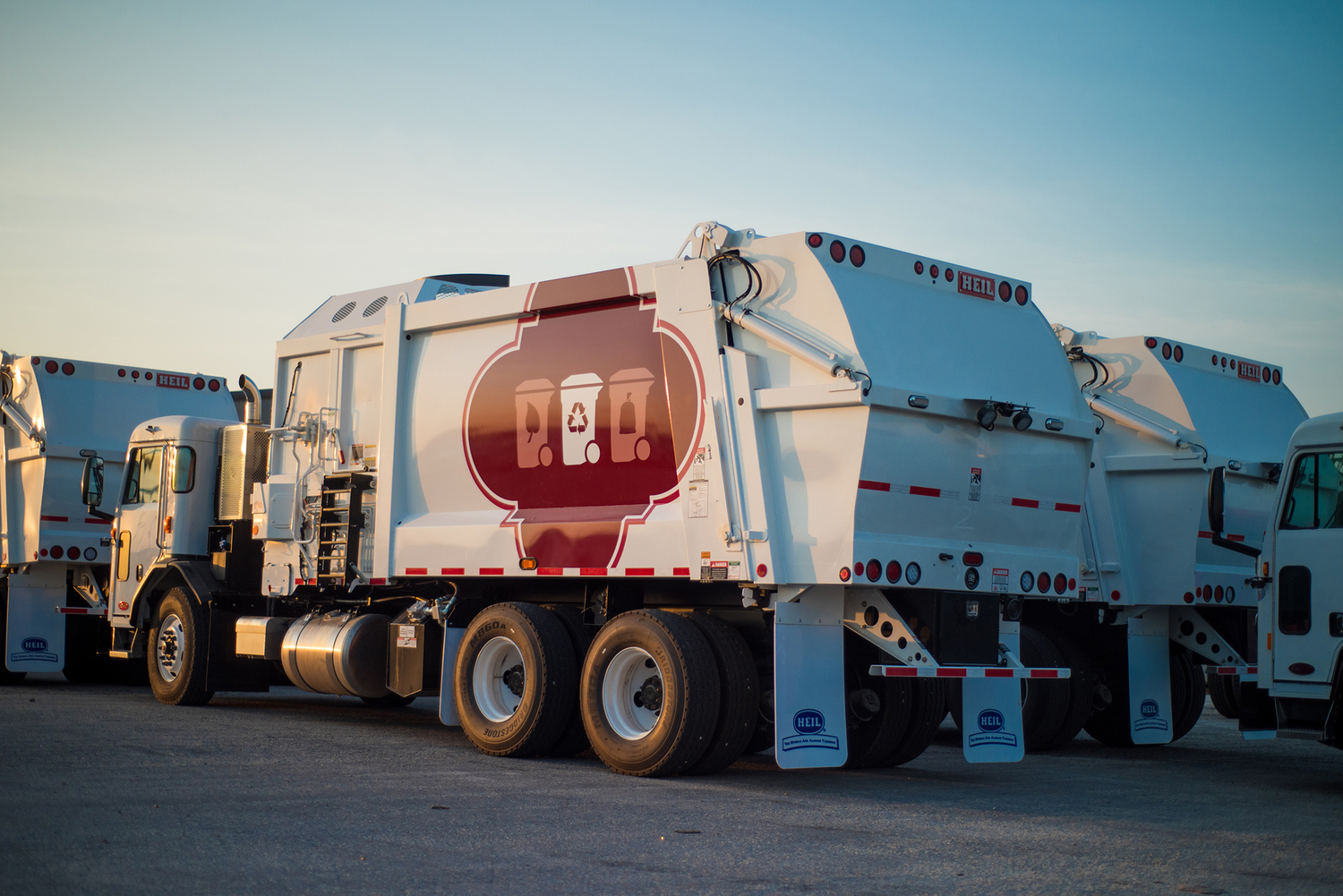 Solid Waste Resources
Vision: All Residents and businesses have access to and receive ongoing benefits from innovative recycling and solid waste diverson programs.
San Antonio's Solid Waste Management Department (SWMD) provides weekly collection service to over 356,000 residential single-family households. The curbside collection includes the blue recycling cart, the green organics cart, and the brown trash cart. Twice per year, the SWMD provides curbside collection of large brush items and curbside collection of large bulky items. The Department also operates year-round drop-off centers for brush, bulky items, and household hazardous waste.

All of these programs are designed to divert less tonnage to the landfill. Recycled materials can be used to create new products. Organic material is composted into nutrient-rich soil, which is then given back to the community. Brush is turned into mulch and is also made available for the community's use.
San Antonio has a goal to increase our residential recycling rate to 38% by 2020 and 60% by 2025
We all have done a great job getting rid of our waste responsibly. We still have a bit more work to do to get to 60% by 2025!
San Antonio has a goal to reduce the amount of disposed household waste each year to 1,685 pounds (0.84 tons). We made significant progress between 2008 and 2015, reducing the annual household waste by over 700 hundred pounds per year! While we're still making progress and reducing waste each year, there is still plenty of waste we could eliminate.
One way to reach our waste reduction goals is by decreasing the contamination rates in recycling and organics carts. The contamination rate is used to measure the amount of unacceptable material (non-recyclable or non-organic) that is placed in recycling and organics carts.
For the last several years, contamination rates have been improving. From 2017 to 2018, the contamination rate dropped from 26% to 20% in blue recycling carts and an impressive 43% to 22% in the green organics carts. In 2019, recycling contamination remained unchanged and unfortunately we had more contamination in our organics collection.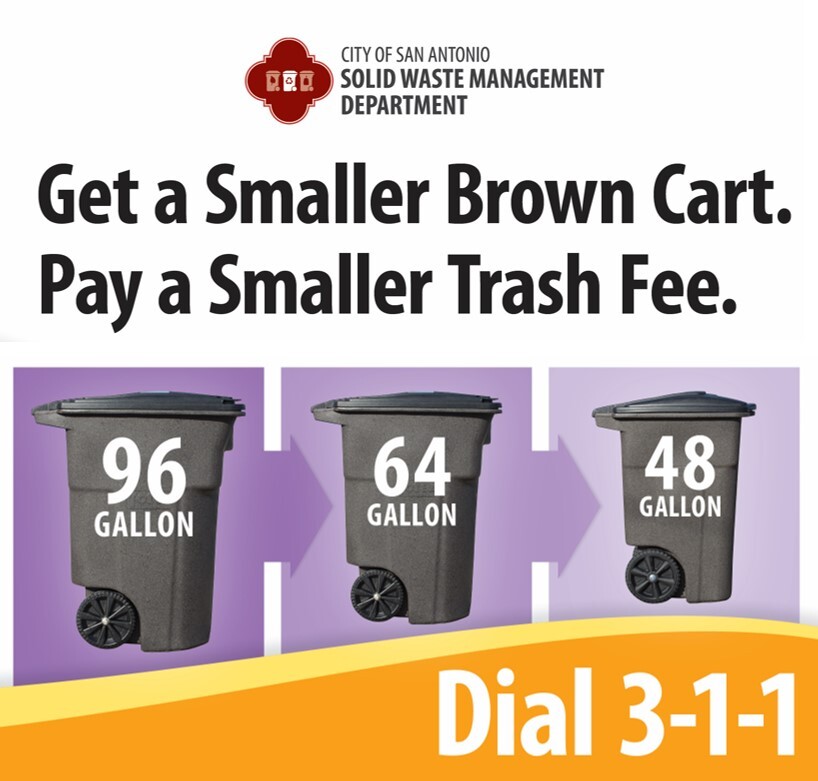 The less you throw away the less you pay!
The SWMD has three size options of brown trash carts. The smaller the cart, the smaller the fee. Better use of the blue recycling cart and green organics cart could lead to more space in the brown cart. Why pay for empty space?

For Current Monthly Fees:
• Visit sanantonio.gov/swmd
• Call 210.207.6550 or 3-1-1
• Contact the SWMD at swmdinfo@sanantonio.gov
• Post an inquiry on the SWMD Facebook page
• Visit the administration office at 4410 W. Piedras San Antonio, Texas 78228
Downsize Today
Diesel-Electric Hybrid Waste Trucks
The City of San Antonio has purchased six diesel-electric hybrid waste trucks. On average, these trucks have 22% better fuel economy than the old waste trucks. As a result, they use less fuel and produce less emissions.
The Solid Waste Management Department provides reliable collection and sustainable services to our community, safely and professionally, while protecting San Antonio's environment, resources, and the health of its citizens through dedicated and caring teamwork.

We are also committed to ensuring all of our residential customers receive ongoing education and incentives to maximize their participation in our recycling and organics programs. For SA's business community, the SWMD provides recycling resources, support and education to help local companies create or improve a recycling program in the workplace.
ReWorksSA: Connecting Local Businesses to Recycling Solutions
The City of San Antonio is transforming their programs to provide resources for local businesses to reduce their carbon footprint. ReWorksSA, a program launched in 2018, helps local businesses start or improve recycling programs in the workplace. In 2021, ReWorksSA became one of the City's key climate initiatives, forming a partnership to bring measurable results to San Antonio's waste and carbon footprint. Research shows that both customers and employees care about an organization's corporate social responsibility, meaning that implementing or improving a business's recycling program could contribute to business growth and better employee retention.
Through a billboard campaign, San Antonio residents were reminded that they could find, and do business with, businesses that have the City's sustainability as a top priority.
The Department's Outreach team conducted recycling education programs to over 82,000 San Antonians in 2018 by making more than 1,000 presentations in schools and at community events.

We know that teaching the next gen of recyclers today will keep sustainability a part of our City's future.

To schedule a presentation, visit: Sarecycles.org.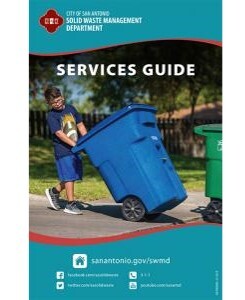 Have a question about our services?
If you are looking for more information on what to recycle, collection schedules, or locations of drop-off centers, our Service Guide provides answers to some of the most frequently asked questions (available in English and Spanish).
SWMD Services Guide
ReWorksSA is helping San Antonio's business community create better recyclng opportunities in the workplace.
---
Start your own recycling center in your office!
Get recognized for your efforts. Become a Gold, Silver or Bronze certified Company.
How much waste does your business generate?