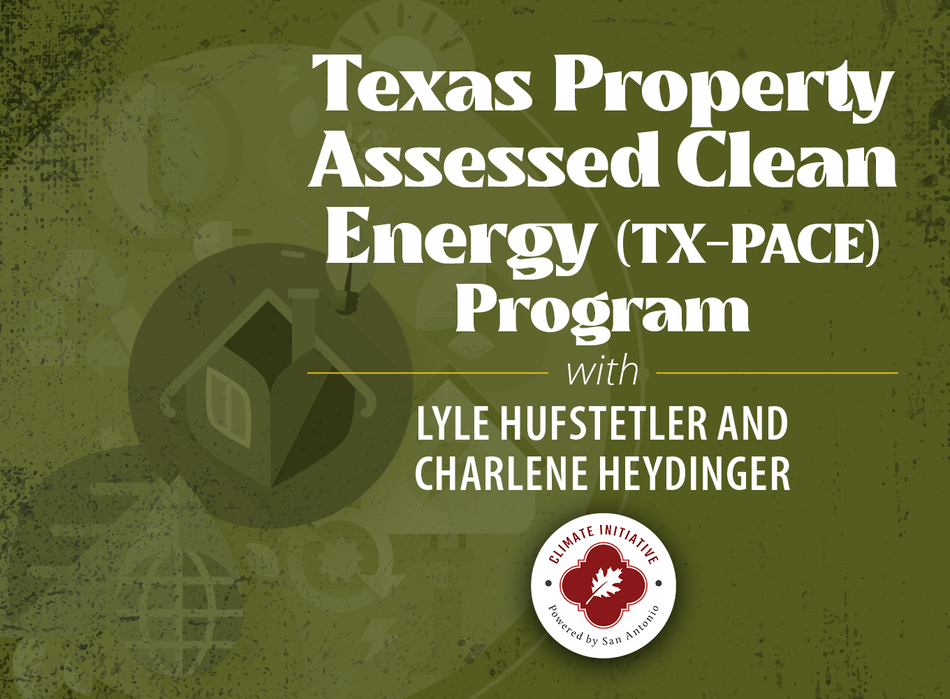 This month's blog focuses on the Texas Property Assessed Clean Energy (TX-PACE) program and the historic Travis Building renovation in San Antonio.
This month, we are pleased to welcome two guests: Lyle Hufstetler and Charlene Heydinger. A little bit about each guest can be found below:
| | | |
| --- | --- | --- |
| Lyle Hufstetler | | Lyle Hufstetler is the Natural Resources Project Coordinator and Clean Cities Coordinator for the Alamo Area Council of Governments (AACOG). He started working at AACOG in 2015, first doing technical and geostatistical analyses of air pollution, including assessing the impact of emission control strategies on our ozone levels. My first exposure to PACE was estimating the ozone and emissions impact of a hypothetical PACE project in San Antonio. More recently, I've expanded my role to include outreach and education to the regional community, informing them of the tools available to combat poor air quality. |
| | | |
| --- | --- | --- |
| Charlene Heydinger is President of the Texas Property Assessed Clean Energy (TX-PACE) Authority and Executive Director of Keeping PACE in Texas (KPT), a non-profit business association organized for the purpose of promoting PACE financing programs throughout Texas. | | Charlene Heydinger |
Office of Sustainability (OS): Thank you so much for taking the time to answer questions reflecting on this first PACE project in San Antonio. First and foremost, how did you become involved with the PACE program?
Lyle Hufstetler: Working in AACOG's Natural Resources department exposed me to PACE as a tool for improving our region's air quality. AACOG Natural Resources conducts technical analyses and engages the community about air pollution reduction strategies, so administering a regional PACE program was an obvious match. Current AACOG leadership has always been supportive of PACE because of its air quality improvement potential, and as an economic development catalyst.
Charlene Heydinger: In 2012, I became the executive director of Keeping PACE in Texas, a nonprofit formed to support the enactment of the Texas PACE Act, which happened in 2013. Then in recognition of the need for uniformity in a state with 254 counties and almost 1,200 cities, I had the privilege of working with 130 volunteer stakeholders to design "PACE in a Box" – a model program of best underwriting, technical, and administrative best practices utilized by more than 75 local governments in Texas.
In 2015 Texas PACE Authority, a 501(c)(3) nonprofit was established to administer PACE programs for local governments using the PACE in a Box model. AACOG was an early supporter of the TX-PACE concept and program. It is our privilege to support the AACOG regional PACE program.
OS: Can you tell us more about the PACE program and how it can benefit San Antonians?
Lyle Hufstetler: First, our poor air quality negatively impacts the health of our children, older adults, and other vulnerable populations. PACE can help business owners improve our air quality by using less energy for heating and cooling.
Another challenge facing San Antonio is water availability. PACE financing can pay for water conservation measures that can help ease aquifer drawdowns by cutting down on waste.
Finally, PACE finances solar panels on buildings and other distributed generation systems that ease the burden on the electrical grid, especially in the summer when energy demand is so high. Additionally, more efficient heating systems or cogeneration measures are eligible PACE improvements that can improve energy resiliency in the winter.
Charlene Heydinger: The San Antonio Sustainability Office was an early supporter of the TX-PACE program and called it out as a recommended tool in the City's Climate Action Plan. San Antonio is blessed with so many beautiful, historic buildings. The PACE mechanism provides a tool for addressing deferred maintenance by providing an affordable and profitable path for investment in energy and water saving measures. Freed up resources can then be used to hire more people and increase profits for both owners and tenants. When owners invest in new equipment, it must be made, transported, installed and maintained – creating jobs throughout the community.
OS: Who is eligible to participate in PACE?
Charlene Heydinger: Business and nonprofits may use the AACOG / San Antonio PACE program for their commercial, industrial, and multifamily properties with at least 5 units.
OS: What types of improvements are eligible for PACE financing? Is it just for energy or can water-saving features also be considered?

Charlene Heydinger: Texas was one of the first states to include water saving measures, which is so important to San Antonio. PACE can be used on measures affixed to the property that make the property more energy and/or water efficient, and/or create power onsite, like solar PV. Water reuse, cisterns, efficient plumbing, and water saving industrial processing equipment are just a few examples of eligible water saving measures.
"The savings from a PACE project over the life of the long-term financing period exceed the total hard and soft costs, so TX-PACE projects literally pay for themselves with little or no capital outlay from the Owner."
OS: What can property owners expect in the long term in regards of savings (energy and monetary)?
Lyle Hufstetler: Because a PACE assessment is attached to the property, if a business owner decides to sell the property before the assessment is paid off, the buyer assumes responsibility to pay it off. Buildings with PACE assessments are desirable because the prospective buyer knows that it has been recently upgraded. Tenants occupying a PACE property, will be more willing to renew their leases if a building has been improved.
Charlene Heydinger: PACE projects receive 100% up front financing from private lenders. The savings from a PACE project over the life of the long-term financing period exceed the total hard and soft costs, so TX-PACE projects literally pay for themselves with little or no capital outlay from the Owner. Owners do not need to cannibalize business capital or divert mission dollars to make their properties more efficient. Net operating income increases, internal rate of return increases, and the property value increases.
OS: Which other cities in Texas are participating in PACE?
Lyle Hufstetler: At the time of this writing, there are 37 cities with PACE programs. It's not just large cities like San Antonio, or those in urban areas. Rural towns have adopted it as well.
Charlene Heydinger: More than 75 local governments (including cities and counties) in Texas have established PACE programs. 14 of these local governments are members of the AACOG regional PACE program.
OS: What are some successes of the PACE program in Texas?
Lyle Hufstetler: Navarro County, southeast of Dallas had a uniform manufacturing company express interest in relocating to Corsicana, but they would only do it if there was a PACE program available, so they could take advantage of that financing to help pay for building upgrades to their planned facility. This led Navarro County to adopt PACE in 2017 – they knew early on that there were potential economic benefits to be realized by adopting PACE.
Charlene Heydinger: Often, the investment in one building can inspire investment in other nearby properties. There are both economic and environmental benefits for the entire community –clean air, freed-up water and power resources, and increased property value. In addition, resiliency and demand reduction will enable communities to better respond to power and water outages.
Across the state, 57 PACE projects have benefited from more than $223 million in clean energy and water investments. Projects range from $68,000 to $26.8 million.

The Travis Building
OS: Can you tell us more about the Travis Building's history, the upgrades to the building through this program, and the challenges around upgrading an historic building?
Lyle Hufstetler: The Travis Building was built in the 1920s and is undergoing millions of dollars in improvements to the building envelope, roofing, lighting, plumbing, and HVAC, as part of its transformation from office space to apartments.
Older buildings are often in need of cost-prohibitive, complex repairs including and beyond those related to energy efficiency. There are many incentives available across all levels of government to provide financial assistance for historical preservation.
Charlene Heydinger: The Travis Building is being updated and repurposed from offices to 63 much needed apartments. The first floor will remain retail. The improvement measures are projected to save $3.5 million more than the cost of the PACE improvements over the life of the PACE assessment. These savings benefit both the property owner and the tenants.
So often, beautiful historic buildings are underutilized or vacant because the cost of restoring them is too high. PACE fills the financing gap so that these properties are brought back to life in a sustainable, affordable way with economic and environmental benefits.

Graphic Source: TPA San Antonio website
OS: What do you see for the future of PACE in Texas?
Lyle Hufstetler: I see TX-PACE continuing not just to grow, but to be a model for other states. The underwriting for TX-PACE has very strict eligibility guidelines to ensure maximum borrower success. As environmental and energy challenges continue to impact Texas, PACE will be an increasingly important program in our toolbox to share with the business community.
Charlene Heydinger: The future for TX-PACE is bright. So often investors walk away from beautiful old buildings or infill opportunities because they cannot make the numbers work. Long term TX-PACE financing enables owners, developers, and investors to see opportunity and benefits in building or renovating buildings the right way from the beginning. There wasn't a financing opportunity to do this before, but with PACE, the upfront investment becomes profitable. Many developers and owners are finding that their investors are asking for environmental, social, and governance (ESG) metrics. PACE is the perfect ESG response – making the commitment to energy and water saving measures profitable for investors on multiple fronts.